High Reliability and Durability and Outstanding Longevity
Using the robust galvanized steel structure for higher corrosion resistance and lifetime durability to sustain high wind and faults conditions. The structure is designed to sustain wind pressure up to 130 KMPH. In Indian conditions the maximum wind pressure is not more than 110 KMPH.
Apart from above stated structure there are only two moving components details of which is as under:
1. Auto Moving Device
Supaasi tracking system uses auto moving device which is suitable for rugged outdoor applications. To evaluate its reliability for use in tracking system, analyzed test data that has expected life span of more than 50 years. The auto moving device used in rail track system is also subject to a variety of environmental and electrical tests under conditions summarized below:
| | |
| --- | --- |
| Temperature | 400 C to 900 C |
| Heat /  Humidity | -400 C to +550 C / 93% to 98% |
| Dust | Per IPX6 |
| Vibration | 5 Hz to 200 Hz |
| Electrical | Electrostatic discharge RF fields fast transient surge transient magnetic fields |
2. Bearings
SUPAASI rail track system uses high density polymer bearings, which has accelerated aging tests and have expected life of more than 50 years. Apart from this is also has following characteristics:
a) Self-lubricating.
b) Requires no maintenance.
c) Corrosion resistant.
d) Resistant to ultraviolet radiation.
Optimal Efficient Installation
The SUPAASI dual Axis Rail Track System offers lesser foundations per MW than the Static Solar Power Panels. Direct impact on cost of Project as well as Interest burden.
Simple link with Self-Power-Controller

The system runs automatically through auxiliary power using Self-Power-Controller (SPC) resulting in no outside power required to run the plant.

Lowest & Optimized Power Production Cost

Since SUPAASI rail track system tracks the sun according to its movement right from its rise in the East to its fall in the West, it always face sun to get maximum radiation as a result of which it produces maximum power as compared to non-moving (static) solar power system.
Certifications
The technological competitiveness of the SUPAASI Solar rail track system has been proven through Ministry of New & Renewable Energy (MNRE), Government of India, New Delhi having validity up to June 2019. In addition to above the SUPAASI rail track system has also applied for ISO certification, which is expected in due course.  Since SUPAASI rail track system is one of its kinds in terms of technological advancement in India, its patenting process is also under process.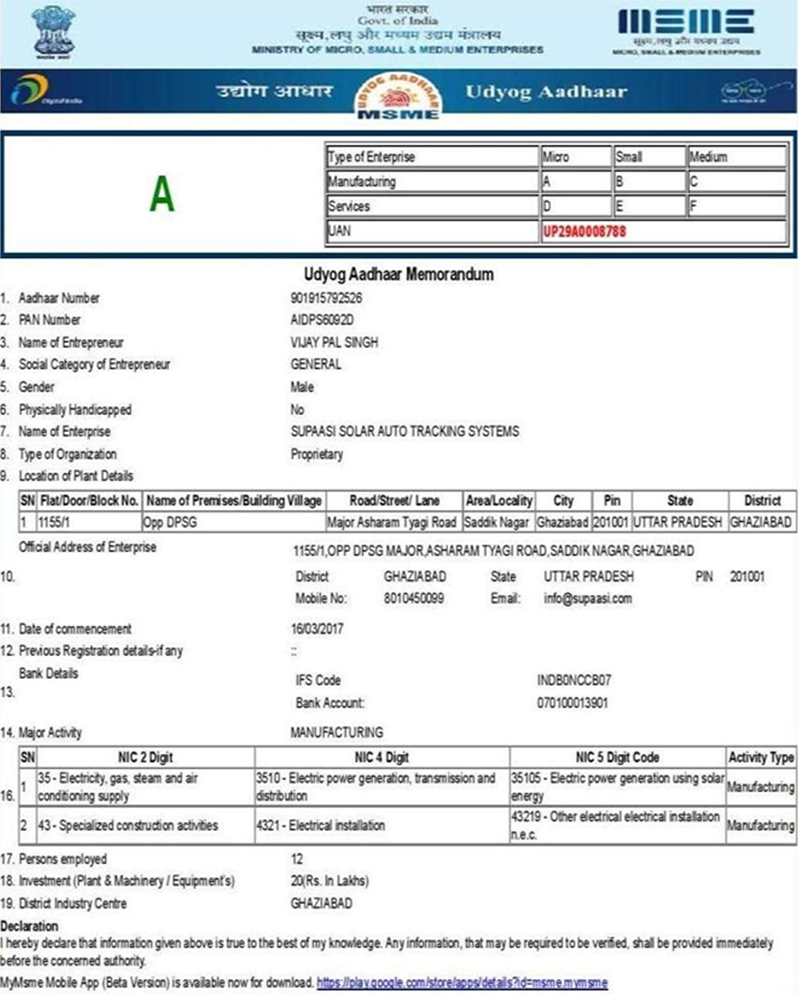 SUPAASI Team and Facility
SUPAASI uses its own technology and facility to manufacture the best quality products. It has its state of the art manufacturing facilities in Ghaziabad. NCR equipped with key components, welding, and latest assembly lines and its branch in western UP at Bijnor.  Branch office at Bijnor is taking care of Sensors and Controller units. SUPAASI is also spreading its wings for participation in various Solar energy promotion schemes being promoted by Government of India inspired by the Prime Minister Mr. Narendra Modi.